Luke 6:38 - give, and it shall be given unto you...




AGAPE RSS
AGAPE.com is visited:


times.
No room for Jesus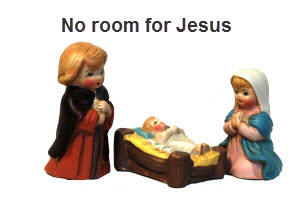 As Christmas approaches once again, I find it timely to reflect on the birth of Jesus.

Luke 2:7 told us that "... there was no room for them in the inn." when Joseph and Mary came knocking.
Indeed, the world has never had room for Jesus. In Bethlehem, the innkeeper denied Him a place to be born.
In Nazareth, they belittled Him and called Him just a carpenter's son. In Jerusalem, they gave Him a cross on which to die and buried Him in a borrowed tomb.

It wasn't by chance that the world has little room for Jesus as prophesied in Isaiah 53:3 He is despised and rejected of men; a man of sorrows, and acquainted with grief: and we hid as it were our faces from him; he was despised, and we esteemed him not.

Those of us who have no room for Jesus are guilty of at least one of the following:
1. We love the world. 1John 2:15 Love not the world, neither the things that are in the world. If any man love the world, the love of the Father is not in him.
2. We serve two masters. Matthew 6:24 No man can serve two masters: for either he will hate the one, and love the other; or else he will hold to the one, and despise the other. Ye cannot serve God and mammon.
3. We do not love our brethren. 1John 4:7-8 Beloved, let us love one another: for love is of God; and every one that loveth is born of God, and knoweth God. He that loveth not knoweth not God; for God is love.

I wonder what the innkeeper of Bethlehem would have done, after he became aware of the ministry of Jesus and the miracles that He had performed?
The innkeeper did not make room for Jesus yet Jesus found rooms in countless lives He touched and ministered to.
I'm sure if the innkeeper had another chance, he would have welcomed Joseph and Mary into his house for the birth of the Savior.

Revelation 3:20 Behold, I stand at the door, and knock: if any man hear my voice, and open the door, I will come in to him, and will sup with him, and he with me.

Remember we are the innkeepers of our hearts. In this season, let us make rooms for Jesus.
Better yet, make Him the Innkeeper of our life. Let Him determine who and what occupy every area of our life.

The fact is that Jesus has come knocking at the door of our hearts often times in our life, in various ways, through various people, in various events.
Just like what happened in Bethlehem, Jesus comes to us when we so often least expect of Him.
Do we have the room for Jesus when He knocks again?