An Adaptable Hedging System
Introduction:
This Hedge EA is designed to auto-trade the Forex markets in an adaptable manner.
Unlike most conventional trading strategies, the direction where the prices are heading is of no concern with this EA.
It is programmed to result in:
| | |
| --- | --- |
| | large and steep profits |
| | small and gradual losses |
| | high adaptability and low draw-downs |
These are done expeditiously without user's interventions. It will also recover itself to its most current state after a VPS failure or disruption.
Indeed, it is near impossible for all of these trades to be executed timely and correctly via manual trading.

Back Test Results:
These back tests were run on a Fxprimus ECN account with 1:100 leverage.
Appended below are the test results for the EURUSD from 1/1/14 to 30/914 and from 1/9/14 to 6/3/15: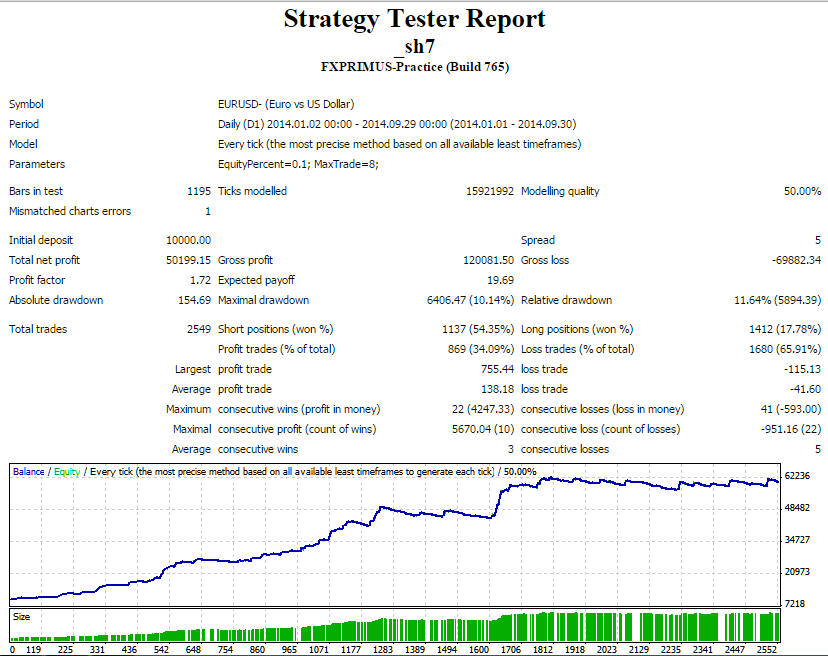 This test generated a ROI of more than 400% with a $10,000 trading capital for the period 1/1/14 to 30/9/14.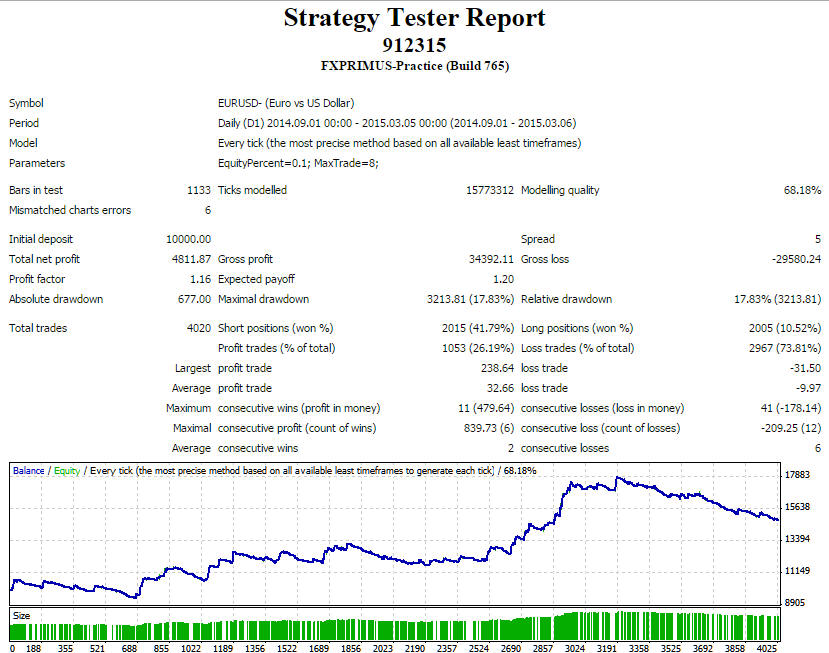 This test generated a ROI of 50% with a $10,000 trading capital from 1/9/14 to 6/3/15, using the same EA under a different name for one of my trading partners.

Win more, Lose less
Notice the cycles of gradual declines and the steep climbs whenever the market turns favorable for the EA?
Since the market will not flip flop forever before it swings upward or downward, we can have the confidence that the recoveries will come sooner or later.
The relatively low draw-down risking only 0.1% of trading capital for all trades is also essential in the preservation of our trading capitals during prolonged sideway movements.
The results from these back-tests show that the EA will limit its losses when the market ranges and becomes increasingly profitable when the market trends.
In summary, these test results attest to the resiliency and effectiveness of this "all-weather, win more lose less" EA.
Indeed, a trader who can consistently capture more PIPS by riding the trend and cut the losses short will be an ultimate winner in the long run.
Furthermore, any winning edge in trading can and should be further extended via automation to generate more gains and free up more time for the traders.

Automation increases our productivity and frees up time for us to do things that matter more to us than just hard work!

I help my traders to reclaim their freedom by automating their profitable trading plans for FREE.

Contact me if you would like me to help you do likewise.

Conclusion:
With this type of EA, we are not concerned with the price directions which are difficult to predict but easier to follow.
We can be confident of our winnings in the long run.
In short, this trading system is low in risks and high in returns.
Click The Potentials of Automated Forex Trading for the Hypes and the Facts.

"Simplicity is the ultimate sophistication."
― Leonardo da Vinci
Contact me to find out how we can make good use of this trading robot to help us overcome the handicaps of Forex trading and to share the fruits of our harvest with the less fortunate.