Luke 6:38 - give, and it shall be given unto you...




AGAPE RSS
AGAPE.com is visited:


times.
Deception in the Churches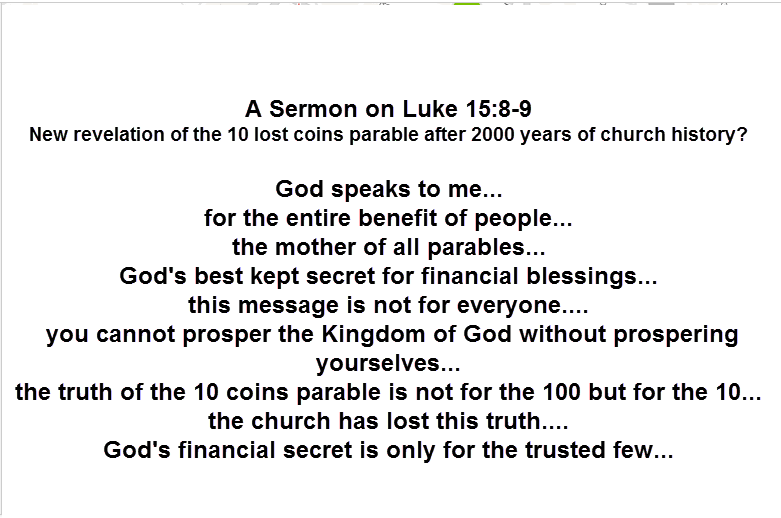 Wow, a new secret on how to become prosperous!

I am prompted once again to write on the topic of deceptions in some churches after I came across a Youtube video titled "Pastor Joseph Prince 2016 – God's Best Kept Secret On Tithing Can You Take It".

The gist of this video is this man's new 'revelation' on Luke 15:8-9 after 2000 years of church history but with no reference to Luke 15:10 for completeness!

Lets begin with what the scripture really says about Luke 15:8-10 from the KJV on the 10 lost coins parable.
15:8 Either what woman having ten pieces of silver, if she lose one piece, doth not light a candle, and sweep the house, and seek diligently till she find it?
15:9 And when she hath found it, she calleth her friends and her neighbours together, saying, Rejoice with me; for I have found the piece which I had lost.
5:10 Likewise, I say unto you, there is joy in the presence of the angels of God over one sinner that repenteth.

Based on the entire chapter of Luke 15. this lost coins, together with the lost sheep and the lost son parables are consistent about the rejoicing upon the finding of the lost sinners.
Hence, it is beyond any stretch of imagination to equate the lost coins parable to tithers prospering from their tithing!

Please go to https://gotquestions.org/tithing-Christian.html for a better understanding on the topic of tithing.
In short, all tithes and offerings should be given with pure motives and an attitude of worship to God and service to the body of Christ. "Each man should give what he has decided in his heart to give, not reluctantly or under compulsion, for God loves a cheerful giver" (2 Corinthians 9:7).
It is plain wrong to preach tithing with the expectation of financial blessings from God.

The deliberate omission of verses such as Luke 15:10 and the twisting of the scripture to make a point to obscure the truth has become a common practice of some preachers to suit their false teachings.

1 John 4:1 Beloved, believe not every spirit, but try the spirits whether they are of God: because many false prophets are gone out into the world.,

warns us to be careful and not to believe what is being preached without first checking the truth of the scripture for ourselves.
It is also our duties to defend and make known the truth of the Scripture.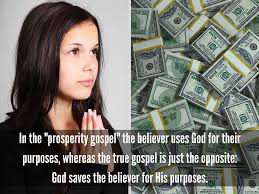 Matthew 24:24 For false christs and false prophets will arise and perform great signs and wonders, so as to lead astray, if possible, even the elect.
Are you attending a church that preaches the prosperity gospel?
Do beware that popularity is no proof of truth; and people can be deceived in great numbers.
Check it out at https://gotquestions.org/prosperity-gospel.html and https://gotquestions.org/prosperity-preachers.html .
While some believe that it is wrong to expose errors and to name names, the Bible actually tell us to expose them.
Romans 16:17-18:
Now I beseech you, brethren, mark them which cause divisions and offences contrary to the doctrine which ye have learned; and avoid them.
For they that are such serve not our Lord Jesus Christ, but their own belly; and by good words and fair speeches deceive the hearts of the simple.
The Parable of the Sower
In Matthew 13:18-23 Jesus warns us that there are 4 outcomes of the Sower scattering Seeds on different Grounds.
Mat 13:18 "Hear then the parable of the sower:
Mat 13:19 When anyone hears the word of the kingdom and does not understand it, the evil one comes and snatches away what has been sown in his heart. This is what was sown along the path.
Mat 13:20 As for what was sown on rocky ground, this is the one who hears the word and immediately receives it with joy,
Mat 13:21 yet he has no root in himself, but endures for a while, and when tribulation or persecution arises on account of the word, immediately he falls away.
Mat 13:22 As for what was sown among thorns, this is the one who hears the word, but the cares of the world and the deceitfulness of riches choke the word, and it proves unfruitful.
Mat 13:23 As for what was sown on good soil, this is the one who hears the word and understands it. He indeed bears fruit and yields, in one case a hundredfold, in another sixty, and in another thirty."
In this parable, the Sower is Jesus, the seeds are the Word of God and the Grounds are the people receiving the Word.
The questions you need to ask ourselves are:
Who is our Sower?
What is the Seed we received?
Is our Ground bearing fruit and yields?
Matthew 7:21-23 warns: "Not everyone who says to Me, 'Lord, Lord,' will enter the kingdom of heaven, but he who does the will of My Father who is in heaven will enter. Many will say to Me on that day, 'Lord, Lord, did we not prophesy in Your name, and in Your name cast out demons, and in Your name perform many miracles?' And then I will declare to them, 'I never knew you; depart from Me, you who practice lawlessness.'"

The modern day Laodicean churches?
In Revelation 3:14-22, John wrote about the lukewarm church in Laodicea.
Rev 3:14 And unto the angel of the church of the Laodiceans write; These things saith the Amen, the faithful and true witness, the beginning of the creation of God;
Rev 3:15 I know thy works, that thou art neither cold nor hot: I would thou wert cold or hot.
Rev 3:16 So then because thou art lukewarm, and neither cold nor hot, I will spue thee out of my mouth.
Rev 3:17 Because thou sayest, I am rich, and increased with goods, and have need of nothing; and knowest not that thou art wretched, and miserable, and poor, and blind, and naked:
Rev 3:18 I counsel thee to buy of me gold tried in the fire, that thou mayest be rich; and white raiment, that thou mayest be clothed, and that the shame of thy nakedness do not appear; and anoint thine eyes with eyesalve, that thou mayest see.
Rev 3:19 As many as I love, I rebuke and chasten: be zealous therefore, and repent.
Rev 3:20 Behold, I stand at the door, and knock: if any man hear my voice, and open the door, I will come in to him, and will sup with him, and he with me.
Rev 3:21 To him that overcometh will I grant to sit with me in my throne, even as I also overcame, and am set down with my Father in his throne.
Rev 3:22 He that hath an ear, let him hear what the Spirit saith unto the churches.
Are you in one of them?